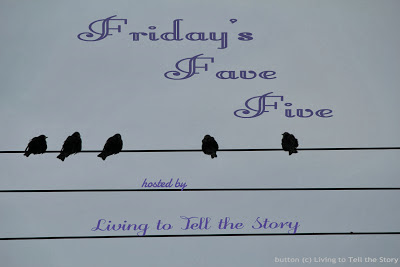 Welcome to Friday's Fave Five, hosted by Susanne at Living to Tell the Story, in which we can share five of our favorite things from the last week, a wonderful exercise in looking for and appreciating the good things God blesses us with. Click on the button to learn more, then go to Susanne's to read others' faves and link up your own.
I confess I wanted to skip the Fave Fives this week because it has been a week of struggling for me physically, which inevitably affects my ability to think and my mindset.  Then came the thought, "There is something very wrong with a Christian who cannot come up with five blessings from the previous week!"  So true!  So here we go…
1. My family chipped in together to buy me a Ninja Ultima blender (think Vitamix, but half the price) for Christmas.  It is a powerful machine and has inspired me to experiment with my morning veggie-fruit-yogurt smoothies.  I'm working on shifting my pH away from acidic to more alkaline and have discovered I like the kale-spinach-zucchini-carrot combo…when I add an apple and some raspberries to the mix.
2. My husband and I were married in a double wedding with his sister and her husband almost 35 years ago.  Although ministry for each couple has separated us physically, we try to get together every 5 years to celebrate our mutual anniversary.  This year we are looking at heading to the Grand Canyon and it's been fun to start researching what is available.  That set me to thinking about previous trips and brought back some lovely memories.
3. When I was waffling about posting this week God reminded me of the passage in 1 Samuel 30 when David encouraged himself in the Lord his God after the devastating raid on Ziglag.  I turned to the scriptures with that in mind and was blessed by meditating on the Word.
4.Last night my daughter-in-law sent us their flight itineraries for this summer.  Our son and his wife live and teach in China and are the busy parents of our two grandchildren.  Each summer the Chinese contingency hits North American soil and splits their time between Canada and the US, where her parents live.  Woo-hoo!!  Just a few short months!!
5.The missionary book organization project is almost finished. When I told my daughter Sarah that I was getting my office cleaned up, she laughed.  Hard.  I guess I will be forever known for my piling system of organization.  But, hey!  I know where all my stuff is…..at least most of the time!
Have a joyful week!